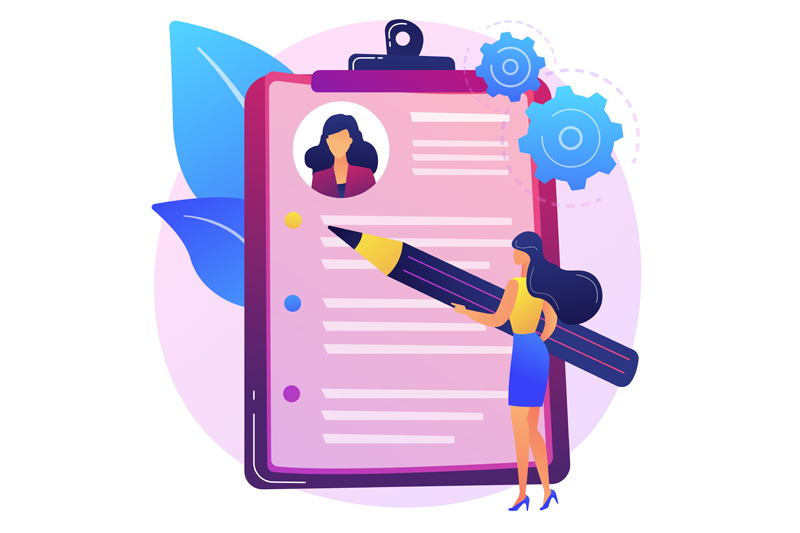 11 Common Resume Writing Mistakes To Avoid In Your Resume
Have you been applying for jobs like crazy, and it appears like none of them have been accepted? Having any type of error on your resume is not a risk even the boldest job seekers should take. The most critical part is you have just six seconds to "wow" a recruiter. Your first point of contact with a potential employer will be through your CV. Therefore, you want to make a great first impression by showing how wonderful you are at what you do. To help you create a robust and thorough resume for your job hunt, we've listed some resume writing mistakes in this post along with some useful advice.
Grammatical Errors and Typos
Check your resume for spelling, grammatical, and punctuation mistakes before sending it to potential employers. Sending employers a tidy, well-written resume demonstrates professionalism and makes a good first impression. You can check your resume for these common resume writing mistakes by using word processing programs or online tools. Asking a friend or member of your family to review your resume is also beneficial because they could catch mistakes you might have missed.
Creating a short or lengthy resume
A lengthy resume could discourage employers from reading your application because they often analyze candidates quickly. Limit the length of your resume to one page, to highlight the most important information about your experience and skills. This is one of the most frequently asked resume writing mistakes. If you have more than ten years of relevant job experience, you can expand on your qualifications on the second page of your resume.
Employers can also believe applicants with resumes under one page need more experience for the job. Consider including information about your education, internships, volunteer experience, or extracurricular activities if you just graduated or if you don't have much professional experience. Explain how those experiences helped you get ready for the new job.
No Action Verbs
Use action verbs. These will not only highlight your initiative but also add more energy to the resume's overall message. This commonly committed resume writing mistake might cost you a great deal. This is because the hiring managers may lose interest while reading your resume.
Using an inappropriate email address
Your application can be instantly canceled if you include an inappropriate email address in your contact information. This is because this mistake will make you appear very unprofessional and will spoil the rest of your application. Making a new email account just for communication with your job applications could be beneficial. Using a formal email address makes your resume look more organized and formal.
Not focusing on your achievements
It's wonderful to see where someone has worked. But the importance should be on what they have learned from their experience, and what they can contribute to a new organization. The area of your resume that requires the most effort to write should be your major achievements, followed by the skills and experience section. Both sections need to be short, factual, and simple to read to avoid these resume writing mistakes.
Your potential employer will be drawn in by these, causing them to read the other sections of your resume.
Listing irrelevant skills
Even though you most likely have a wide range of skills, use your resume to highlight those that are relevant to the new position. You should avoid these kind of resume writing mistakes as it will unnecessarily make your resume lengthy. Read job postings carefully to make sure you're including relevant abilities on your resume. You can demonstrate to potential employers that you have the skills and personality to succeed in the new position by listing relevant experience.
Having outdated contact information
For potential employers to reach you, it's critical to make sure your resume's contact information is correct. These resume writing mistakes can cost you a great deal. Make sure to include a working phone number and an email address that you often check. List your new address, along with the city and state, if you've recently relocated. By including the appropriate details on your CV, you make it possible for prospective employers to get in touch with you to arrange an interview or get further information about your application.
Using the same resume for all applications
While applying for various jobs, make sure to create your resume for each position to highlight your eligibility for that particular position. This is one of the resume writing mistakes that is committed quite frequently. For each job you apply for, it's beneficial to establish a master resume template that you can copy and save as a new document. You can include certain terms and phrases from the job description in a customized resume to assist it to get past an applicant tracking system (ATS). You can also draw attention to your qualifications and experience that are relevant to the new position.
Too Busy Visually
Your resume will most likely give the employer a headache if it is wall-to-wall text in five different fonts. So, before you send out your resume, have it reviewed by several people. Revise if what you have written is difficult to read to avoid making resume writing mistakes. Times New Roman, Arial, and Georgia are all common resume fonts. To keep your resume's attention on your skills and qualifications, stay away from using vibrant colors or graphics.
Disclosing your salary requirements
If not specifically requested, you should avoid listing your salary requirements on your resume.
You should focus on what you can do for the company rather than what the company can do for you during the initial hiring stage. Salary negotiations can take place later, usually after or during the interview process.
Lying On Your Resume
You should never, ever lie on your résumé. This resume writing mistake is very critical and can severely impact your image. Even if you're fortunate and land the job, you'll find yourself in a very awkward position because you can't perform the tasks you mentioned you could. You'll ultimately just waste both your time and the time of the company by getting fired or quitting on your own.
CONCLUSION
An error on your resume might give the impression that you didn't put much time or effort into your application. Experienced hiring managers can spot mistakes on resumes right away.
Your best chance of landing an interview and the job you want is to know what resume writing mistakes to avoid on your resume.
However, perfecting your resume is just the initial step in your job search. You must also apply for the correct position, write an impressive cover letter, and nail the interview. We hope we were able to assist you in taking your resume to the next level.