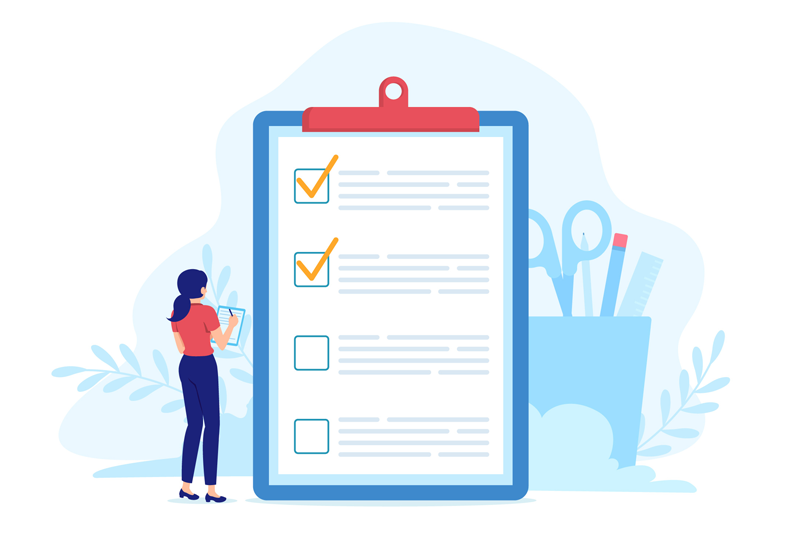 10 Resume Writing Tips That Will Help You Land Your Dream Job
A resume generally serves as your first impression of the recruiting manager. Writing a resume requires skill. It involves promoting yourself in a short amount of time and place. The resume should showcase who you are as a person, your professional background, and your accomplishments. It also shows the potential you could provide an organization or an employer. It is their priority as an employer to choose the most deserving, qualified, and capable employee.
Therefore, the candidate must stand out among those hundreds of resume applications to catch the employer's eye. However, you may increase your chances of getting the job, by following these few easy resume writing tips.
To help you write a strong resume that will help you land the position of your dreams, this article offers 10 resume writing tips.
1. Keep your resume short, authentic, and direct.
The first one of the resume writing tips is no more than one page. Unless you have a very excellent reason for it to be longer, such as a lot of relevant work experience, keep it short.
Include only current, relevant experience on your CV for a simple method to keep it short. Even if your first job may have taught you a lot, it's not necessary to discuss every aspect of your professional background.
The majority of experts advise listing experience of the last 10 to 15 years. But, if you are fresh to the workforce, this time range may be shorter.
Recruiters generally can spot lies. Being sincere and honest pays well. By concentrating on two or three strengths, you can develop your distinctive brand. Focusing on your accomplishments will demonstrate your drive and excitement.
2. Adopt the correct sequence.
The order in which the various components of your resume are listed should follow certain best practices to make it easier for hiring managers to find the information they need. This second tip is more crucial than all resume writing tips.
An easy-to-read resume should follow the order shown here:
Contact information
Objective statement
Skills section
Work experience
Education
Additional sections
3. Write a prominent objective statement.
A compelling objective statement on a resume will draw the hiring manager's attention. A one or two-sentence explanation of your career objectives is known as an objective statement.
Keep your message brief and specific to the position you are applying for. Here are some guidelines to follow while writing an objective statement:
Put your resume's objective statement at the top.
Mention the job for which you are applying.
Describe your career objectives.
Mention your qualifications.
Mention a major skill or professional background to sell yourself.
4. Showcase relevant skills and experience.
Among all resume writing tips, it will help to prioritize your skills, and experiences that are most relevant to the position you're applying for. Pick three or four old jobs or experiences that best showcase the qualifications needed for the work you're applying for.
After experience and education, add a separate section to your resume with a bulleted list of your relevant skills. Whenever you list your achievements in bullet form under your experience, be sure to give examples of times you used these skills to succeed.
Employers prefer it when new hires are familiar with similar programs the company uses internally. It saves them time in the training process.
5. Emphasize achievements and results over responsibilities.
A resume's main highlights and points of interest can all be accomplishments, awards, and achievements. These can provide you with an advantage over the competition. An employer can tell if you have a strong work ethic or skill set by looking at your accomplishments on a resume.
There are two crucial resume writing tips to list achievements on a resume:
Job descriptions:
The manner you characterize your past roles matters in the work experience section of your application. Your specific accomplishments in this role might be highlighted in the job description.
Achievements Section:
You can focus on your overall achievements and highlight any awards or other recognition you have received. Design a section just for your achievements.
6. Use active language and keywords
Focusing on language and keywords are very important resume writing tips! Action verbs convert your resume's language from passive to active. An active voice attracts readers and drives hiring managers to give importance to what you have to communicate.
You might be able to position yourself as the ideal applicant and secure more interviews with this one easy change.
Words or brief phrases used to identify candidates for a particular position are known as keywords. To filter through resumes and focus on candidates who have the qualifications they need, hiring managers employ keywords.
7. Use Decent Font.
Whatever resume writing tips you follow, but the one everyone must follow is to choose a decent font. A professional impression can be created with the correct font.
Choosing a font that is difficult to read or doesn't look presentable, will decrease your chances of landing your ideal job. Your resume needs to be easy to read, honest, and clear. Always select a clear, professional font style and size.
For instance, resumes frequently utilize the fonts Arial and Times New Roman. Regardless of the font you select, make sure it is used consistently across the whole page. The section headings should be highlighted with bigger font size, capitalization, or bolding.
8. Include subheadings & sections you need, and choose appropriate margins.
The longer headlines are less readable and less clear. Use only one or two words. The purpose of headings is to make it clear what is included within them. On a resume, less is more.
One-inch margins are suitable for a typical resume with minimum graphic components and a simple layout. They appropriately distance your text from the page's edge so that your content stands out. Additionally, one-inch margins assist your resume to look well-organized and readable.
9. Review resume examples for your industry
After submitting a job application, having a resume on hand can help you get your first interview. This resume writing tip is crucial as employers evaluate resumes to decide who to hire. You might find it helpful to check your resume's format. You can review sample resumes related to your industry and the information you decide to include while you're looking for work.
10. Proofread and edit.
Last but not least resume writing tips, proofreading, and editing are very crucial ones, as another person might notice details that you missed.
Grammatical, spelling and spacing errors can be expensive. These rank among the recruiters' main complaints. From bottom to top, read it again and again. Sometimes job seekers rush to send their resume out and begin applying for jobs as soon as it is done. Not a wise move. Review, edit, and then apply it before sending. Never be afraid to seek help with your resume.
CONCLUSION
Finding a job can be difficult, especially if you feel like you've been looking for a while without finding anything. It's crucial to position yourself as the applicant with the most qualifications while the hiring manager is reading over your resume. We at True CV believe that our resume writing tips will enable you to demonstrate your skills and enthusiasm.