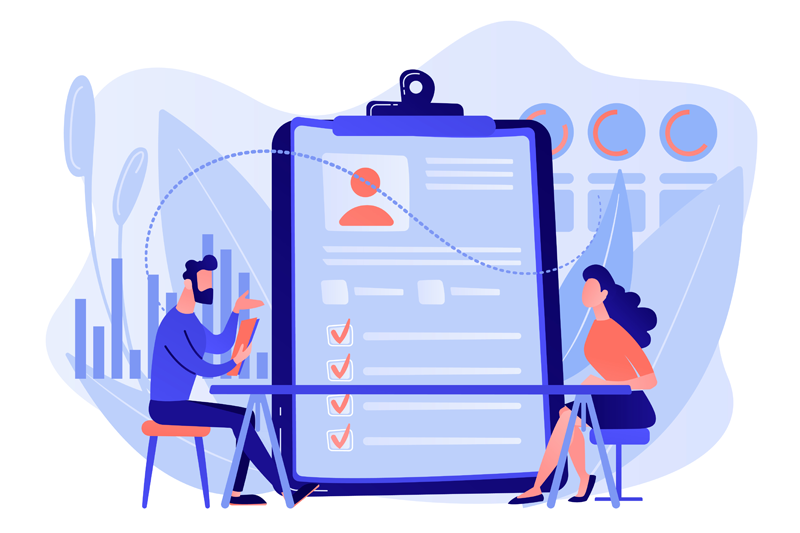 7 Interview Tips For Freshers To Achieve Interview Success
In most cases, a candidate is interviewed to determine whether he or she is qualified for the position. An interview not only helps the employer in selecting the best applicant but also helps the applicant in determining whether the position is a good match for his or her qualifications. So, to make it happen, we must consider interview tips, especially for fresher's, which listed out of experience.
An interview is usually difficult, and if you are a fresher, it may even make you anxious. While you are eager to enter the corporate world on the one hand, you are also always afraid of being turned down. But it's better to be ready for the interview than to let negative ideas consume you. To help you make your job interview more convenient and less stressful, we've listed below a few interview tips for freshers.
1. Be well researched
A major interview tip for freshers and experienced candidates, both, is to do your research about the company and the job description. Before the interview, do some research on the business to show the hiring manager that you are interested. This can also be a fantastic method to demonstrate how your values, knowledge, and abilities align with the long-term objectives of the organization.
More than a candidate might realize, researching the company is essential. You must make sure that your ethics align with those of the business. Therefore, we have ranked this as a top priority for interview tips for freshers.
Each company's profile has a reviews section. Additionally, you may find current or past employees of the company and get their opinions on things like the working environment and culture.
2. Be well dressed
Whether you get the job mostly depends on your ability to make a good first impression, and appropriately dressing for job interviews is important to doing so. Spend some time on your hair and nails the day before the job interview.
If the job interview is held in person, make sure your clothing is ironed and that you are dressed appropriately. Even if your interview is online, you must dress appropriately. Following this job interview tip freshers can show commitment to succeeding professionally and excitement.
Big watches, flashy jewelry, and overpowering scent should all be avoided as they may draw unwanted attention. You'll look formal and interview-ready if you dress in a clean shirt, pants, and shoes.
3. Maintain positive body language
Body language also plays a vital role in presenting your personality. This interview tip for fresher is very critical as many hiring managers are quick to point this out. Make eye contact with the interviewer while sitting firmly and straight. Additionally, don't just stand there, speak while making gestures and hand motions to demonstrate your understanding of the questions and replies.
Before the interview, practicing non-verbal communication can be an excellent place to start. You can show that you understand what the interviewer is saying by smiling and nodding. When sharing your ideas or providing answers, use the fewest possible hand motions. During the job interview, try not to move about or play with your clothes or hair.
4. Ask Relevant Questions
This is one of the most important interview tips for freshers. By asking questions to your interviewer, you demonstrate your research and come across as curious. Consider it a fantastic opportunity to showcase your abilities and traits when asked about your doubts and questions.
By having intelligent conversations with the interviewer about their company and the industry you might soon enter, you can make a good impression. Additionally, it helps you understand the work you'll be doing soon.
5. Prepare an extra set of documents
Keeping your documents organized is another important interview tip for freshers that you should do before an interview. You must have multiple printed copies of your resume, and you should check each one carefully in advance for grammatical or spelling problems. As for resume, if you follow the resume writing tips listed by professionals, it would be more beneficial to ace the interview.
In addition, line up all of your academic papers—degrees, certificates, etc.—original and photocopies—in one location for convenience. As it builds a little more trust, you can also bring your past internship certificates or any letters of recommendation written by your former mentor.
Additionally, it will be helpful to bring a tiny notebook or notepad for writing down crucial information. Additionally, it will demonstrate your professionalism to the employer and make a good first impression.
6. Ensure to follow up after the interview
After the interview is over, it is considered polite to thank the interviewer. Within 24 hours, you should send a thank-you note to them expressing your appreciation for giving you such a fantastic opportunity. Additionally, it makes you stand out from the competition and puts you at the forefront of their minds.
Once you receive the response, you can make appropriate plans and decide whether or not to join the organization. You might not always receive a positive response; in that case, you can inquire as to the reason you weren't given the position. You'll be more prepared for future job interviews thanks to this interview tip for freshers. Also, you might get hired by the same company for a different position.
7. Communicate clearly
One of the most important talents a candidate may possess is effective communication. You should be able to communicate clearly and know how to communicate your ideas, whether it be through spoken words, body language, or writing.
Freshers often find it difficult to speak with or approach the recruiter with queries, but this shouldn't be the case. You must gather all information from anyone or any organization you are planning to work with.
Structure your responses so that they reflect your confidence and avoid sounding unpleasant. Always pay close attention to the interviewer's questions, then provide clear, skill-based answers. This job interview tip will help you in the long run also.
Conclusion
Therefore, preparing for the job interview by using these interview tips for freshers will help you succeed. Even though you may be a fresher without any experience, putting all of your efforts into your interview preparation could help you ace the interview and land the job you want!
We believe that this top interview advice for new hires will enable you to ace the interview process and advance to the next round. Although you might not have work experience as a new employee, everyone is different in some way.
To have a significant influence on the interviewer, you must emphasize your distinctive strengths. You can achieve that by using these interview tips for freshers.