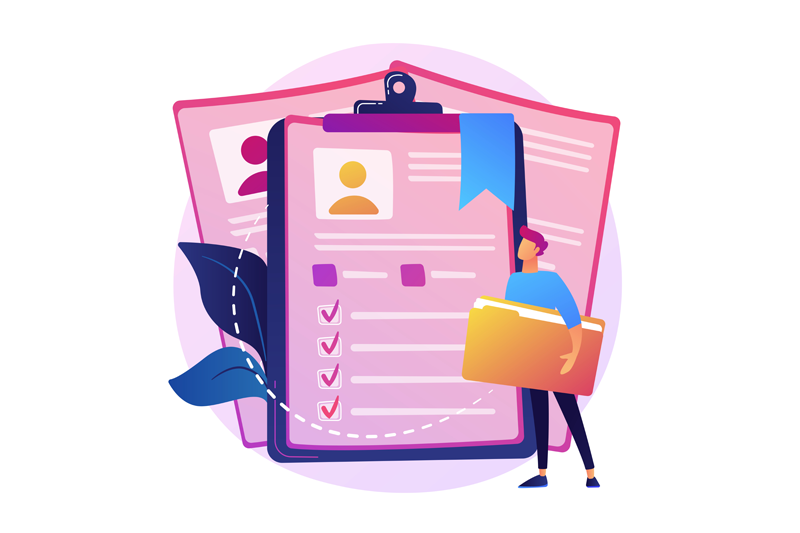 Best Resume Writing Tips For College Students In 2023
You must create a strong resume to get a remarkable job after graduation. To secure a job, college students and new graduates should be able to write compelling resumes. Even trained professionals frequently need help with the formatting and content of a professional resume. You probably don't have much work experience if you're in college or a recent graduate, which makes writing a resume even harder. Although it is easier said than done, expressing your exceptional skills, work ethic, and potential in writing can be difficult. You may read some of the best resume writing tips for college students we've mentioned here to learn how to create an impressive resume that will win over hiring managers.
1. Sections to include
You'd be surprised at how frequently candidates miss some crucial resume sections. Regardless of the other things you decide to put on your graduate resume, keep this resume writing tip in mind. In a similar sequence as this, the resume should have the following sections
● Name and Contact Information
● Education
● Work Experience
● Skills
You should probably include more sections as a college graduate to highlight your significant achievements and skills. The following are some resume writing tips on additional sections you might add:
● Extracurricular/Volunteer Activities
● Honors and Awards
● Certifications, Skills, and Training
● Digital Proficiency
● Foreign-Language Proficiency
● Hobbies and Interests
2. Right format
The second resume writing tip is to list your entries in reverse chronological order, which means starting with the latest and then moving backward from there. Hiring managers can better understand your current activities, previous successes, and how your experiences might apply to the job vacancy thanks to this organizational strategy.
3. Lead with a profile summary
Provide a description of your qualifications that explains your value proposition, the essence of your image, and the major reasons a hiring manager should choose you for an interview. Make it crystal clear to the individual reading your resume what value you would contribute. A distinct goal and relevant qualifications are necessary for the summary to be impactful. No separate objective part is necessary because your professional goal can be incorporated into the summary. This resume writing tip is very important if you want to get the attention of the recruiting managers.
4. Highlight your education
If you are a college student or recent graduate, your academic history should be put first in the body of your resume because it will be one of the most important sections for recruiters. This is a very crucial resume writing tip as graduates don't have any prior work experience.
Add your major and degree, the name of the school, your (potential) graduation date, and any minor information in each entry of your education. Also, you can list relevant coursework, preferred subject areas, thesis or dissertation titles, honors, awards, or academic accomplishments.
5. Create a resume that fits the job description
The next important resume writing tip is to adjust your resume to fit the role. Start by reading the job description in its entirety and marking any keywords and phrases you come across. Then, use these phrases wherever they make sense in your resume. Even if the resume is evaluated by an applicant tracking system, the majority of hiring managers will look for keywords associated with essential skills.
To uncover popular terms and phrases, you can pass the job description by a word cloud generator if you're having problems finding keywords. Run your resume through the same generator once you're done writing it to see if the keywords match the ones in the job requirements.
6. Include additional sections
After the skills category on your college resume, you can include some non-work-related areas to make yourself stand out from other candidates with similar educational profiles and skill sets. According to this resume writing tip, for college students or fresh graduates with little to no prior work experience, an additional skill section is ideal.
You have the opportunity to demonstrate how and where you acquired specific abilities outside of the classroom by listing important activities. Ensure that your activities align with the kind of work you plan to perform in the job you're looking for. If you have received any awards outside of college and are related to the position, you can add a dedicated area that briefly describes each achievement.
If digital proficiencies are more pertinent to the role, you can add a digital proficiencies section in instead of a normal skills section. A digital proficiency section at the end of a resume should be included by candidates looking for jobs that ask for knowledge of particular software, digital tools, or web languages to demonstrate their technological aptitude.
7. Use action verbs
If you want to grab the recruiting manager's attention right away, use this resume writing tip. Action verbs are especially crucial while writing the very first word in your job experience section. You should try to replace typical phrases and words with sharper action verbs since many resumes are cluttered with the same overused language. Converted, analyzed, and composed are some verbs you might use to describe your accomplishments more interestingly.
8. Overcoming low academic performance
What happens if your academic results are unsatisfactory? Don't be worried. Concentrate on your core competency. If academics are not your strong suit, perhaps outstanding internships are. Whatever you feel to be your highlights, you can emphasize them according to this resume writing tip.
Employers often look for evidence of written communication, problem-solving, teamwork, leadership, and analytical-reasoning abilities in addition to GPA. Both these and strong grades are effective ways to impress recruiting managers.
9. Choose a professional font and font size
Your resume will look polished and professional if you use this resume writing tips. Choose plain fonts like Georgia, Cambria, Calibri, or Helvetica. Although many claim that 12 pt is the best font size for a resume body, you can reduce it to 11 pt if you're having difficulties fitting all of the information in. It's crucial to avoid using a font size that makes it challenging to read quickly.
Increase the font size for headings and subtitles to roughly 4-6 points bigger than your body text. To add even more visual emphasis to section titles, think about utilizing bold, underlining, or capitalization.
10. Review and revise
You will need to review your resume repeatedly if you want it to be perfect. You must constantly monitor your resume writing for grammatical and spelling errors. Ask for helpful feedback from your parents, friends, teachers, and the experts at the career services center without hesitation.
Conclusion
Your resume will only make a good impression on hiring managers if you work on it constantly and improve it to the best of your ability. Take your time and be sure you follow all of the instructions above while finishing it. Also, don't forget to write feedback to let us know whether this article helped you land your dream job or not!